Transportation Products
Cobasys' advanced NiMH energy storage systems for hybrid electric vehicles (HEV), electric vehicles (EV), 42-Volt and plug-in hybrid electric vehicle (PHEV) transportation applications.
Cobasys is delivering energy storage solutions for the rapidly changing transportation world utilizing our patented NiMHax systems. As the battery of choice for most types of hybrid vehicles, NiMH is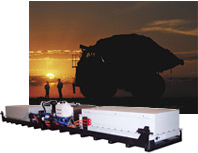 delivering cost-effective solutions to address fuel economy and emission concerns of today and tomorrow including:
Outstanding Performance
High Power in a small package
High Energy
Extremely Reliable
Long Cycle Life
Recyclable
Environmentally Friendly
---
HEV Systems
> View Product Information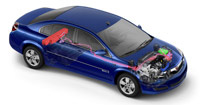 Utilizing our patented NiMH technology, NiMHax HEV systems provide a cost-effective solution for hybrid applications. NiMHax solutions have excellent power, energy, weight, and volume characteristics. NiMHax HEV energy storage systems are designed to be "plug-and-play" solutions and can be scaled to meet light- through heavy-duty requirements. Our energy storage module is the building block for the NiMHax HEV. NiMHax solutions are available in a wide range of voltages, power, energy and can be tailored to your specific needs.
---
HDV Systems
> View Product Information


The NiMHax HD system utilizes advanced Cobasys NiMH battery modules. These systems offer high power and energy for demanding heavy-duty applications. NiMHax HD systems incorporate the same benefits found in all our transportation solutions: "plug-and-play"; liquid cooling; and communications capability all in an efficient package.
---
42 Volt Systems
> View Product Information

The NiMHax 42 Volt system is an excellent choice for Mild Hybrids. Features include: improved power and discharge capabilities; consistent power and regen over wide state-of-charge range; and ultra long life in a compact lightweight package. NiMHax 42 Volt systems can be air or liquid cooled to suit performance requirements. In addition, the NiMHax 42 Volt system battery is maintenance free.
---
EV Systems
> View Product Information

Vehicles that use 100 percent electric powertrains can benefit from the long range performance of our NiMHax EV battery systems. NiMHax EV systems are designed for high discharge rates to provide power on demand. NiMHax EV battery systems have a proven, performance track record.
---
Lithium-Ion (Li-Ion): PHEV Systems

Cobasys' expertise lies in the ability to integrate energy storage systems, regardless of the chemistry.

The Cobasys Li-Ion Plug-in Hybrid Electric Vehicle (PHEV) energy storage systems have been developed to support the automotive industry's need to improve fuel economy and emissions.